How do you stay organized? I use my email calendar to schedule my work meetings, calls, and due dates, but when it comes to my personal life, I prefer to do it the old-school way — a calendar pinned to the wall in the kitchen, a to-do list in a spiral notebook, and handwritten reminders for more urgent tasks. I even keep a list of what's in the fridge taped to a cabinet to help me plan meals during the week and avoid food waste. While the visual reminders are a great way to stay on top of things, it means that my work space is occasionally littered with sticky notes that stress me out rather than inspiring me to work.
I've been wanting to try bullet journaling for a while now, but I wasn't sure if it was for me. I liked the idea of keeping everything I need to know in one place, but found the notation style to be a bit overwhelming. Also, if the Instagram #bulletjournaljunkies tag is any indication, people who are into bullet journaling are REALLY into bullet journaling. It all seemed a bit intense for someone who had a mostly-functional system already in place.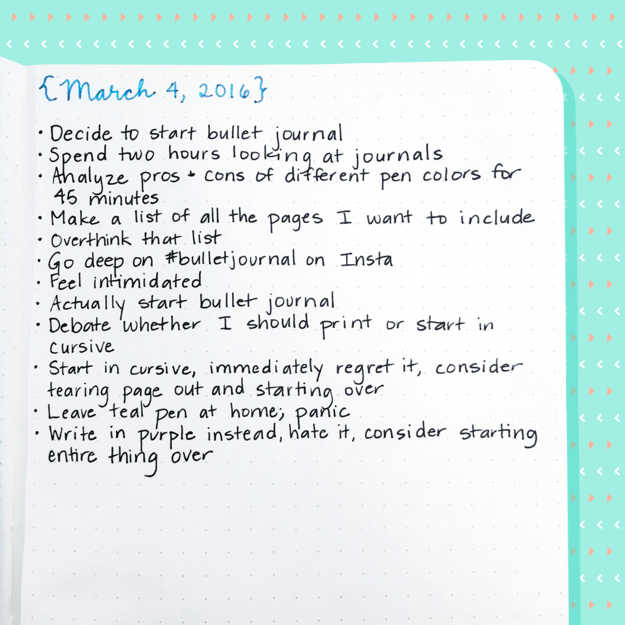 The process, in a nutshell. (via BuzzFeed)

Then I read a BuzzFeed article about bullet journaling and decided to give it a try. Starting next week, I'll be keeping a bullet journal as part of a broader effort to tackle some long-term goals that have been gathering dust while I deal with my day-to-day life. I'll also use the journal as a mental health management tool and track things like sleep patterns and exercise.
It'll be a learning process, but I think that using a single tracking system will help me break free of the tyranny of the sticky notes (and clear up some desk space for the mountain of books I recently got from the library).
(via Pinterest)
What do you think? Want to give it a try with me? If so, here are some bullet journaling starter guides that I read in preparation: